sa lahat ng mahilig sa labsong at drama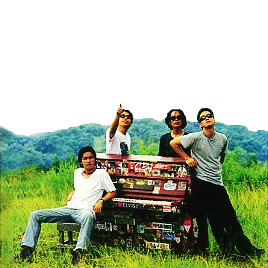 "hindi ko gets bakit si ely ang pinagkakaguluhan ng mga babae. personally, mas type ko si buddy." the words spontaneously slipped past my mouth without much thought as the camera panned showing screaming eheads fans holding up signs proclaiming their love for the band's frontman. i was watching the eraserheads reunion concert on dvd thanks to my generous cousins one night.

watching the concert was like a time machine bringing me more than a decade back to the time of black doc martens, social awkwardness, sweet valley books and superior rock OPM music (sorry kids, it's true). the eheads were always famous for their controversial but equally relatable lyrics, and melodies that tend to get stuck in your head, with good reason, of course. for me, i always loved how each song is able to tell a story - from the cutesy but sad "tindahan ni aling nena," to the nostalgic "minsan," to me personal favorite, the tragic "ang huling el bimbo." i've yet to see a current pinoy band that can come close to what the eheads has done to OPM.

missing both reunion concerts was horrible. who knows when the next reunion will be? never, most probably. my last chance to listen to my favorite band sacrificed for wards 9, 11, 3 and 1. *grumble* oo, duty ako sa pedia at IM noon. on the plus side, watching the video satisfied me to some extent. when i concentrated hard enough, i fooled myself into believing i was among the sweaty crowd, singing along to every song they'd dish out, jumping like a crazed person to ely's command. insanity FTW. -_-;

apparently, i'm not the only one who thinks that buddy should get more love from the fans. my cousin prefers him too. maybe it's the clean look? the fact that he plays bass? another cousin justified that "gumugwapo ang lalaki pag kumakanta." does that mean team ely siya? touché. pero mas type ko pa rin si buddy!