my bloggy's famous
all you need to do is take a peek at my tag board to realize that something's up. my little blog which i made a year ago (happy birthday, bloggy!) has reached superstar status thanks to a magazine article. my cousin's friend writes for
candy magazine
, a popular pinoy teen magazine. she was writing a feature on blog makeovers and she needed a blog so... i said "yes."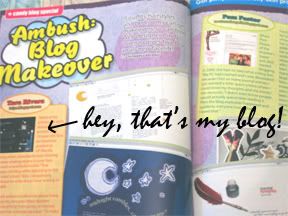 i must say that the designs cindy lorenzo made were cute! they remind me of the illustrations of the book, "the little prince." suddenly, there's this urge to make a new layout. and with a week's worth of vacation time left, i might just do it. maybe after my body gets tired of sleeping all day.
i bought another pair of havaianas last week. tsk, it seems i've gotten myself into quite an expensive addiction. P700+ for a pair of rubber slippers? med has turned me into a lunatic.
you see, after studying too much medicine, i tend to blame it for everything.
verse for the day:
the fear of the Lord is the beginning of wisdom; all who follow His precepts have good understanding. to Him belongs eternal praise. [psalm 111:10]