the three harry potters
trina's dad bought several harry potter books (the seventh, of course) while he was in bangkok. the cool thing was there were two different kinds of book covers - the british, cartoony one, and an adult romance novel-ish one. weird. a few days later, kris bought the book with the american cover. so, with all three book covers under one roof, i did a mini photo shoot.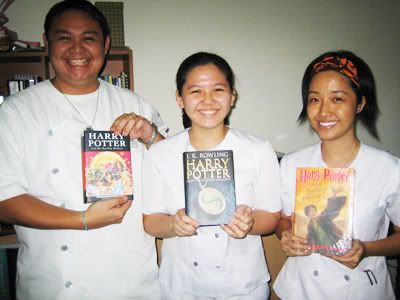 L-R: rodney with british; trina with adult romance novel-ish; kris with american
clinical rotations start on monday (tomorrow/today?). our group's first rotation is in community medicine. we have to go to a community in pasay to "take care" of patients there. we also have a bunch of papers to write. sigh. i guess this means goodbye to classroom work and hello to the real medical world.
verse for the day:
the Lord is my rock, my fortress and my deliverer; my God is my rock, in whom i take refuge. He is my shield and the horn of my salvation, my stronghold. [psalm 18:2]